The 3rd International Conference on Patient- and Family-Centered Care - Partnerships for Enhancing Quality and Safety
The Institute for Family-Centered Care is proud to present The 3rd International Conference on Patient- and Family-Centered Care - Partnerships for Enhancing Quality and Safety, July 30 - August 1, 2007, in Seattle, WA. The Conference will draw participants from the United States, Canada, and around the world from a variety of settings: primary care, community-based programs, public health and mental health agencies, hospitals, family-led organizations, and schools of medicine, nursing, and other health and helping professions. The three-day conference will be filled with opportunities to learn and to network. To learn more about partnerships among healthcare providers and patients and families, to enhance the quality and safety of the delivery of healthcare, and to meet others involved in leading and advancing patient- and family-centered care, plan to attend The 3rd International Conference.
We are pleased to announce that The Commonwealth Fund is providing financial support to expand the International Conference programming in the area of primary care. This is particularly timely in light of the recent release, by four membership organizations representing the majority of primary care providers in the United States, of the "Joint Principles of the Patient-Centered Medical Home (PC-MH)" advocating strong partnerships among providers, patients, and families. The four organizations are: The American Academy of Family Physicians (AAFP), the American Academy of Pediatrics (AAP), the American College of Physicians (ACP) and the American Osteopathic Association (AOA).
Three sessions will be presented, supported by The Commonwealth Fund, on Wednesday, August 1, 2007:
Saving 21st Century Primary Care: The Essential Role of Patient/Clinician Partnerships with Susan Edgman-Levitan, PA, Executive Director, The John D. Stoeckle Center for Primary Care Innovation, Massachusetts General Hospital, Boston, MA. This presentation will feature strategies to redesign and revitalize primary care, all involving patients and families as essential partners in the redesign efforts. Ms. Edgman-Levitan will share information from in-depth case studies on 12 patient-centered primary care practices developed with support from The Commonwealth Fund.
Lessons Learned from the Medical Home Experience in Pediatrics: Implications for Adult Primary Care with Richard C. Antonelli, MD, MS, FAAP, member, Project Advisory Committee, National Center for Medical Home Initiatives, American Academy of Pediatrics and Chief, Division of Primary Care, Connecticut Children's Medical Center, Hartford, CT; and Kate Orville, MPH, Co-Director, Washington State Medical Home Leadership Network Center on Human Development and Disability, University of Washington and Family Leader, Seattle, WA. This session will inform how family-centered, culturally competent principles, care coordination, and partnerships with patients and families are the cornerstones of the pediatric medical home. Topics will include quality improvement, the redesign of office-based primary care, and measurement of outcomes. Successful strategies from pediatric care that can be used for bringing about change in adult primary care will be discussed.
Developing Strategic Alliances with Patients and Families: Building the Case for Quality Partnerships in Adult Primary Care. This will be an interactive, question and answer luncheon session with national and regional leaders discussing how to create partnerships with adult patients and families in order to redesign primary care.

Increased life expectancy and advances in modern medicine and nutrition mean that more people are living with chronic diseases and conditions, and for longer periods of time. As a result, chronic care self-management in the ambulatory setting is drawing much interest, and will be addressed at The 3rd International Conference.
Kate Lorig, RN, DrPH, Professor, Stanford Patient Education Research Center, Palo Alto, CA, will lead a session on Chronic Disease and Caregiver Self-Management: A Family Affair.

Judith Schaefer, MPH, Senior Research Associate, MacColl Institute for Healthcare Innovation, and Improving Chronic Illness Care, Group Health Cooperative, Seattle, WA, and Director, Self Management Support Learning Community, New Health Partnerships: Improving Care by Engaging Patients, Institute for Healthcare Improvement, Boston, MA, will present a session, Finding Common Ground: Supporting Change In Healthcare and at Home.

Additionally there will be discussion of the New Health Partnerships (http://newhealthpartnerships.org/) program, which serves as a model for improving collaborative self-management support in ambulatory care settings.


These are just a sampling of more than 80 sessions offered by the Institute for Family-Centered Care at The 3rd International Conference. To see the entire program, click here: BROCHURE
To learn more about being a sponsor or an exhibitor at this ground-breaking conference, click here: INVITATION TO EXHIBIT or call Julie Moretz, Director of Special Programs, 301-652-0281.
Patient- and Family-Centered Care Program Coordinator: Hollis Guill Ryan
In 1999, Hollis Guill Ryan's 33-year-old son, Sam, was diagnosed with brain cancer. During his treatment at the University of Washington Medical Center, Hollis was his principal caregiver. In 2003, Sam and Hollis participated in a focus group convened in conjunction with a visit from the Institute for Family-Centered Care.
Subsequently, Hollis accepted an invitation to become a member of the Hospital's Patient- and Family-Centered Care Steering Committee as a volunteer Family Advisor. The Committee, co-chaired by the Chief Nursing Officer and the Associate Director of Patient- and Family-Centered Care and Education Services, is comprised of a wide array of diverse participants, including the Medical Director, nurse managers, clinical supervisors, a chaplain, and representatives from many organizational units including Patient Relations, Center for Clinical Excellence, Volunteer Services, the UWMC Board of Directors, Social Work, and Organizational Development and Training. Members of the Committee put forward their own priorities and discuss what works and what doesn't. Hollis describes her 2003-2004 volunteer experience on the Committee as "spinning straw into gold."
In August 2004, Hollis accepted a paid half-time position, funded through the hospital's Service League, as the Patient- and Family-Centered Care Program Coordinator. Hollis helps to recruit and place Patient and Family Advisors who serve on various councils and operating committees throughout the medical center. There are now 30 active volunteer Patient and Family Advisors!
Hollis works with three of the Advisory Councils: the Perinatal Advisory Council, the Inpatient Oncology Advisory Council, and the Rehabilitation Services Advisory Council. READ MORE . . .
Thank You for Leadership Support
The University of Washington Medical Center, Children's Hospital & Regional Medical Center, and the Seattle Cancer Care Alliance have joined together to provide leadership support so that the Institute for Family-Centered Care can bring this exciting 3rd International Conference to Seattle. We thank them for their kindness, generosity, and commitment to patient- and family-centered care.

University of Washington Medical Center
University of Washington Medical Center (UWMC) is among the top ten medical centers in the United States as rated by U.S. News & World Report, offering world-class specialty and primary care.
University of Washington Medical Center's primary purpose is to care for patients. The Medical Center is a teaching and research resource, providing high-quality education for health sciences students and an environment for clinical research. A distinguished medical staff provides specialized tertiary care services, along with primary and secondary care services.
UWMC is committed to strengthening partnerships between care providers, patients, and their families. This partnership fosters the philosophy of patient- and family-centered care that is central to services at UWMC.
Together patients, their families, and care providers shape policies, programs, facility design, and day-to-day interactions to continuously improve the care experience.
Children's Hospital & Regional Medical Center

Ranked as one of the best children's hospitals in the country by U.S. News & World Report and Child magazines, Children's serves as the pediatric referral center for Washington, Alaska, Montana, and Idaho. Founded in 1907, Children's provides excellent patient care with compassion and respect, and conducts cutting-edge pediatric research and serves as a respected educational resource for parents and healthcare professionals alike. With the most advanced diagnostic and therapeutic equipment, Children's specializes in meeting the unique physical, emotional, and developmental needs of children from infancy through young adulthood.
Children's is committed to high quality, family-centered care. Patients, parents and families are all important members of the Children's team. Children's strives to provide care in a way that promotes healing, ensures dignity and instills trust.
The hospital encourages families to be direct in asking
for what meets the needs of the child and family -- whether it is to request more information about the child's illness and treatment, to voice a concern about the care the child is receiving, or to ask for a visit from support staff such as a social worker or chaplain.

Patients and their families are an important part of
Children's safety efforts. Input from family members helps improve services and provides a safer health care environment. Children's tells family members, "feel free to question anything that you don't understand while your child is here."
The Family Resource Center provides information and support for patients, families, staff, and the community. Child health information is available on specific illnesses and conditions, parenting, growth and development, grief and loss, and safety. Services and facilities are free and include parent massage, vending area with coffee and tea, computers with Internet access, phones, fax, lockers, showers, and laundry.
The Seattle Cancer Care Alliance (SCCA) unites the expertise of three internationally renowned cancer care institutions -- Fred Hutchinson Cancer Research Center, UW Medicine, and Children's Hospital & Regional Medical Center -- to create the only federally-designated comprehensive cancer center in the Northwest.
The SCCA's Patient and Family Resource Center offers a wide variety of resources for patients, their families and their caregivers. The Resource Center provides visitors access to medical information and educational materials as well as online computer workstations; all services and materials provided in the Resource Center are free.
Support groups, sponsored by SCCA Pastoral Care and Social Work, enable patients, family members, and caregivers to reflect on their personal experiences and to gain information and support from other group participants and facilitators on a variety of issues:

* Caregiver Support Group

* Patient Support Group

* Patient and Caregiver Support Group

* Long-Term Follow-Up (LTFU) Support Group
Vacation in the Beautiful Northwest Before or After the Conference
Things
to do in Seattle and Beyond

Seattle is anything but ordinary. It's the place where bicycle messengers share elevators with world-renowned researchers; where fishermen have lunch alongside top surgeons. It's a city where the extraordinary is commonplace and commonplace is anything but. From a jet engine to an espresso machine to grunge rock, Seattle's world-changing events have all had a distinct sound.

Nestled in the city's vibrant core, the Sheraton Seattle Hotel is a gateway to all the sights, sounds, and experiences of the fabulous Northwest. The best of Seattle is found just outside its front doors, from exciting nightlife to gourmet restaurants, world-class shopping, and the heart of the financial and business district.

Feed your sense of adventure and join Seattle Food Tours as you walk and taste your way through the most delicious and historic neighborhoods. Enjoy a two-and-a-half-hour guided tour while sampling some of Seattle's best chowder, smoked salmon, Tom Douglas' celebrated dessert, and much more while learning about the history, architecture, and diverse culture of these great neighborhoods. Tours will be offered prior to the conference on Friday, Saturday and Sunday for conference attendees and their families, as well as Thursday after the
conference.

SOME SPECIAL SIGHTS BEYOND SEATTLE:

See Seattle and the surrounding areas for enriching, exciting, and rewarding memories that will last far beyond the usual. Discover the charm of Whidbey Island, the San Juan Islands, cross the floating Lake Washington bridges to the foothills of the Cascade Mountains, take in the scenery at Mount Rainier and Mount St. Helens. Drive the Cascade Loop, visit wine country, or head west to Olympic National Park.
Take time to enjoy the Pacific Northwest by exploring Puget Sound with over 80 islands and scenic peninsulas, go Whale Watching (over 80 orcas sometimes called killer whales live in the Puget waters); visit Snoqualmie Falls - more than a hundred-feet higher than Niagara; hike Mount Rainier, the highest peak in the Northwest; experience Mount St. Helens, an active volcano. And, be sure to visit Vancouver, the dynamic metropolis on Canada's west coast.
Thanks to the Sponsors & Participants at our Spring 2007 Seminar in Maine
We were so excited to see the 254 participants from around the world in Portland, Maine, April 22-26, 2007, for the Hospitals Moving Forward with Patient- and Family-Centered Care Intensive Seminar. Nurses, social workers, physicians, child life specialists, administrators, government officials, patients, caregivers, family members, occupational, speech, and physical therapists from 65 hospitals from Canada, Australia, and the United States exchanged strategies for developing and nourishing patient- and family-centered care principles to bring about effective change in their health systems.

Four highly successful yet divergent organizations: Cystic Fibrosis Foundation, Maine Medical Center, MaineGeneral Health, and Eastern Maine Medical Center joined forces to bring this intensive seminar to Maine. They provided financial support, learners and teachers, and overarching hospitality and kindness.

The Maine Department of Health and Human Services' Center for Disease Control and Prevention gave invaluable assistance. Dr. Richard Aronson, Director of the Office of Maternal and Child Health, and Ms. Lisa Sockabasin, Director of the Office of Minority Health, provided logistical support, facilitated collaboration, and opened the door to new partnerships.
The Maine Healthy Access Foundation (MeHAF), Maine Family Voices, Maine Parent Federation, and the Bingham Fund were generous beyond our expectations. Collaboratively they provided scholarship resources for patients and families, spread the word about the Seminar, and systematically promoted patient- and family-centered care by ensuring that the underserved communities also have a voice in bringing innovative policies, programs, and practices to Maine.

And networking, networking, networking! East Coast/West Coast; big city/little town; carnivores and vegans! All describing patient- and family-centered care as applied to adult inpatient and outpatient care, pediatric settings, maternity care, newborn intensive care, and emergency rooms across the country. You could hear a pin drop as all 254 participants and 20 faculty members listened in rapt attention as members of the patient and family member panel told their inspirational stories of how the experience of care affected each of them.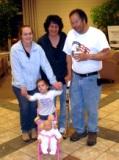 Keya Smiley & her family at the Portland Seminar


Representative Comments:

"Excellent! I've learned so much - and I know I'll continue to assimilate these ideas over time."


"Very nicely paced. The BEST conference model I've ever attended."

"Excellent! A must attend!"