International Conference ~ A Huge Success!
Thanks to all who made The 5th International Conference on Patient- and Family-Centered Care: Partnerships for Quality and Safety such a successful event, including all the sponsors, exhibitors, key note speakers, session and poster presenters, volunteers, and most of all, the almost one thousand participants!
A special thanks to the Samueli Institute, the Picker Institute, and Children's National Medical Center, for providing leadership support.

The Institute's Facebook page includes many photos from the Conference. See if you can find yourself and colleagues in any of them, and tag the photos. In addition, the Institute posted even more photos on the Institute's Flickr page, so check it out!
For those of you who missed the Conference, or those who attended but—due to the overwhelming number of great sessions and posters—did not get to see and hear all that you wanted, most of the session handouts and poster presentations can be accessed at no cost through the Institute's Conference page. Also check out the Online Library for audio recordings of the Conference. Individual sessions as well as the full meeting are available for purchase.
Conference presenters who have not yet posted their handouts are encouraged to do so. Please contact the Institute for assistance.

A Call to Action ~ A Conversation Between Debra Ness and Liz Crocker
Building on the wealth of information shared throughout the three-day International Conference on Patient- and Family-Centered Care, referencing speakers and sessions, Debra Ness, President of the National Partnership for Women & Families, and Liz Crocker, Vice President of the Institute's Board of Directors, delivered a rousing Call to Action at the closing plenary.


Debra and Liz talked about how to change the culture in health care. Referencing Jim Conway's "crappy culture produces crappy results" and author, Steven Johnson's talk on innovation, they discussed the importance of collaboration and building relationships, having a peer network with LOTS of diversity in the room, the slow hunch process, incredible leadership, pooled intelligence, adjacent possibilities, and how chance favors the connected mind. While the culture change process takes time, as Richard Baron, MD, MACP, Group Director, Seamless Care Models, at the Innovations Center, Centers for Medicare and Medicaid Services (CMS) said, "governments can't get out ahead of all of us...we have to lead the way."

Don Berwick, former CMS Administrator and former President and CEO of the Institute of Healthcare Improvement (IHI), set the stage earlier in the Conference by saying that the IHI's Triple
Aim—improving the patient experience of care, including quality and satisfaction; improving health outcomes; and reducing costs—can only be achieved through the fullest form of patient and family engagement. Debra Ness stated, "We have the opportunity to change the U.S. health care system in a very profound way...we can't afford to lose the opportunity....We are talking about changing our culture in health care...at the core...profoundly changing the very way that the system and everybody in it actually thinks about patients and families...getting us to a place of collaboration and true partnership."

Liz shared her infectious optimism, saying that, "we can do this...for if something exists in one place then it is possible in others." For example, Liz noted some of the amazing programs already in existence, including the Take a Break Program in Hackensack NJ, featured in a poster presentation, and the Patient First Report Mandate for the entire province of Saskatchewan, Canada. She recounted some of what she learned at the Conference of the amazing work being done around the world. Examples include the work in Kingston, Ontario to bring patient and family advisors into their strategic plan, and now they have over 40 advisors and no limitation on family presence. Another innovative program, featured in a session from Denmark, was the Danish Society for Patient Safety's distribution—in four train stations—of 40,000 t-shirts along with brochures about patient safety. Various terms for loved ones and three important safety tips were printed on the shirts: go to appointments with loved ones, ask questions, and know your medications. Programs in Australia and British Columbia are bringing patient- and family-centered care to prison populations. Ottawa, Canada, received over 1000 responses to a request for volunteers who wanted to participate in a patient and family panel.

Another example is a primary care clinic in Seattle that put up a white board with the names and pictures of the treating physicians, and then posted for all to see whether each was running on-time, twenty minutes late, or more than twenty minutes late. This simple act of communication and transparency gives patients and family members information about how to plan their time (does the patient need to feed the parking meter, or have time to go get a cup of coffee?) and demonstrates respect for the patient.

Liz also cited countless other examples and hard data presented at the Conference proving the efficacy and viability of making the culture change to enhance the delivery of care making it safer, improving the quality, and lowering the cost. For example, see Vidant Health's presentation to learn of positive changes that resulted from instituting patient- and family-centered care across the entire organization. Details can be found in the presentation: The Role of System & Advisor Leadership in Advancing Patient- and Family-Centered Care Across Multiple Environments of Care.

Debra Ness echoed the sentiments of Don Berwick, saying that "We cannot allow that irresponsible, reckless, cost cutting horse to win the race!" The way to achieve improvements of quality, safety, and experience of care AND reduce the costs at the same time is through collaborative partnerships of care providers, patients, and families.

According to Debra, "the time is now to speed things up," noting common misconceptions:

Many well-intentioned people are still trying to get patients to be different, to be "better patients," and to put the patient at the center of the health care team, but not to include the patient and the families in the room to discuss how to make these changes. There is a need for education on what is true patient and family engagement.
Resistant people who think they know it all, and who think that patients will want everything, despite evidence to the contrary that patients make pretty good decisions when given the opportunity.

Liz also gave suggestions from Better, by Atul Gawande, of how to become a Positive Deviant: "ask unscripted questions, don't complain, and count something that is interesting to you. Keep your mind open; be curious. Be open to the adjacent possibilities that Steven Johnson discussed.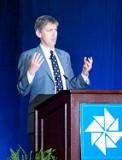 "

Debra pointed out "people we remember in history were positive deviants...all of us have the power to be the agent of change...we can make a difference...you have to be part of changing that perception... Be the change you want to see."

Debra and Liz reminded participants that: "Nothing is Impossible!"

Hear Debra and Liz's entire conversation, and check out plenary sessions of other speakers.

Participant Buzz on the International Conference
The 5th International Conference for Patient- and Family-Centered Care drew nearly 1000 participants from all over the USA, Canada, and the world. Participants came from 42 states, 5 Canadian provinces, and represented 10 countries. The energy was palpable during three exciting days filled with speakers, sessions, poster presentations, exhibitors, luncheons, dinners, hospital tours, and lots of opportunities for networking.

Here's what a few participants said about the Conference:
"...incredible conference! Advisors and patient experience leaders are still buzzing about the wonderful sessions, great networking, and most of all, the sense of community experienced at the conference."
Sue Collier, RN, Vice President, Office of Patient-Family Experience; Vidant Health, Greenville, NC

"Just a quick note of congratulations and appreciation for all of the Institute's hard work in making the international conference a huge success. It was extremely well run, and professionally very rewarding. Even more, it was a WONDERFUL and INFLUENTIAL time for the second year medical student and chief resident that I brought with me to present. Both remarked that it was the perfect conference to set their priorities in order before a significant role change (beginning clinical rotations and starting out in practice on his own, respectively). Of the five national/international meetings of 2012, this one was the best run and most supportive! Congratulations!!"
Jeffrey D. Schlaudecker, MD, Assistant Professor of Family and Community Medicine; University of Cincinnati, Cincinnati, OH

"I literally returned to my workplace today and said, "everyone here should try to attend this conference! Very informative and cutting edge."
"EXCELLENT Conference! This clarified many misconceptions I had about what patient- and family-centered care is all about."

"This was an excellent conference that offers a well-rounded, wealth of information to participants in a very compact amount of time. The presenters include not only exceptionally knowledgeable professionals, but also individuals receiving care who offer invaluable personal reflections. It is a very inspiring conference!"
"This Conference has tremendous value—it helps you benchmark your work against others in the field and learn new strategies to expand your work."

Jim Conway Receives the 2012 Patient- and Family-Centered Care Leadership Award
Bev Johnson, the Institute's President and CEO, proudly presented the 2012 Patient- and Family-Centered Care Leadership Award to James B. Conway on Monday, June 4, 2012, at the opening session of The 5th International Conference on Patient- and Family-Centered Care. The award recognizes Jim's "commitment as a senior leader in health care to advancing the practice of patient- and family-centered care and developing effective partnerships with patients and families at all levels of care, and in health care redesign, safety, and quality improvement."

Later that day, a sold-out crowd of more than 130 conference participants attended a special luncheon to hear Jim Conway, who is a member of the Institute of Medicine (IOM) Committee on the Learning Health Care Systems in America, speak about "Learning and Improving Health Care Systems: The Patient, the Family, the Public."
Jim Conway, former Senior Vice President of the Institute for Healthcare Improvement and a Senior Fellow, is an adjunct lecturer at the Harvard School of Public Health and a principal in the Governance and Leadership Group of Pascal Metrics. He is a former Executive Vice President and Chief Operating Officer of Dana-Farber Cancer Institute, and prior to that had a 27-year career at Children's Hospital Boston.


Thank you for all your great work, Jim, and congratulations!
Check Out New from the Institute
The Institute's website now has a section on Annual Reports of Advisory Councils and the Institute is offering two new Leadership items on its Resources page.

Check out the newly available Annual Reports of Patient and Family Advisory Councils and Committees Section located under Special Topics Section on Institute's website. This new section provides information about annual reports including what would be useful to include in them. Thanks to the diverse group of advisory councils that shared annual reports with the Institute and for allowing us to share them with our readers.


Also check out the new publication, Partnering with Patients, Residents, and Families: A Resource for Leaders of Hospitals, Ambulatory Care Settings, and Long-Term Care Communities, and companion video, Partnerships with Patients, Residents, and Families: Leading the Journey. Both are available for purchase on the Institute's Resources page. An Executive Leadership Team Resource Package, which includes ten copies of the printed guide and one copy of the video and discussion guide, is also available on the Institute's Resources page.
Pinwheel Sponsor Reports on the Conference
More than 40 Christiana Care nurses, physicians, staff, patient/family advisors, and senior leaders attended The 5th International Conference and returned with "many ideas on how to move the culture to a true partnership with our patients and their families." Check out the recent Christiana Care News that not only includes great feedback on the Conference, but also several short video clips on demonstrations on Patient- and Family-Centered Care in the ICU.

A Few More Conference Photos...

Find many more Conference photos on the Institute's Flickr page.