The Patient-Centered Medical Home is a care delivery model in which patients' treatment is coordinated through their primary care physicians to ensure they receive the necessary care when and where they need it, in a manner they can understand.
The objective is to have a centralized setting that facilitates partnerships between individual patients, and their personal physicians, and when appropriate, the patients' families. (American College of Physicians)
Transforming Clinical Practice Initiative (TCPI), is a national project funded by the Centers for Medicare & Medicaid Services. It is designed to support primary and specialty practices in sharing, adapting and further developing comprehensive quality improvement strategies, including patient and family engagement (PFE).
Within TCPI, there are extensive nationwide, collaborative, and peer-based learning networks that facilitate large-scale practice transformation. Practice Transformation Networks (PTNs) provide technical assistance and support. In addition, Support and Alignment Networks (SANs) work with the PTNs to create a system for workforce development and additional assistance with practice transformation.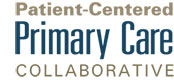 As a Support and Alignment Network (SAN), the Patient-Centered Primary Care Collaborative (PCPCC) provides support to patient and family partners, along with practices and PTNs across the U.S. to promote more meaningful patient and family partnerships in quality improvement and community collaboration with care teams.
The American College of Physicians (ACP) is another health care collaborative network participating in TCPI as a SAN. ACP helps equip clinicians across the United States with tools, information, and support to improve quality of care, increase patients' access to information, and spend health care dollars more wisely.
Another CMS initiative, CPC+ is a five-year advanced primary care medical home model launched in fourteen regions in January 2017. CPC+ integrates many lessons learned from its predecessor program, CPC.